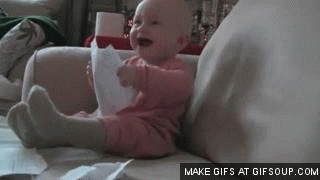 Sometimes we forget to laugh, especially when life is throwing curved balls. I know; it sounds condescending to tell someone to laugh, when it may be the last thing you feel like doing [in truth, you may want to actually and literally THROTTLE the person saying, " Cheer up, smile ... It doesn't cost anything ..." So this person does not elicit any laughter in you ... moving on ...
FIND SOMETHING that tickles you and makes you laugh - true, deep-belly, rip-roaring until you cry tears of laughter. I watched a movie recently - Bridget Jones's Baby - and oh boy, my son and I almost split our sides with laughter.
LAUGHTER TONIC is truly nature's wonder-tonic: it releases happy chemicals, de-stresses your body, helps you to relax, thus promoting better sleep ... all helpful in helping you learning to love yourself.
Many a truly [most of the time] happy people say they don't take themselves, or life too seriously. They say roll with the punches and laugh when you can, and do let your friends help you, even when you don't feel like reaching out.